Gandía is located in Spain, on the Valencian coast. Gandia is part of a region called "la Safor", 65Km south of Valencia.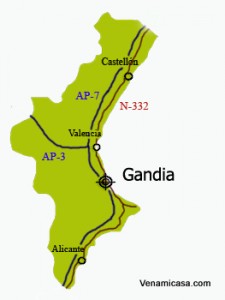 Gandia is well known for its large and sandy beaches and is visited in summer by many tourists.The total length of the beaches is 7.5Km.
The Palacio Ducal is the former palace of the Duke IV, San Francisco de Borja. The palace offers different architectures (Gothic, Renaissance and Baroque) The building with its Golden Gallery and Crown Room can be visited by tourists.
There are many shopping centers and boulevards in Gandia. Calle Mayor is the traditional shopping area of the city, nice shops, restaurants and terraces. It is part of the historical center of Gandia. This street is close to the townhall and other historical sights as The old university (1549-1767), the Palacio Ducal, Jaime I Square (One of its buildings has a beautiful mosaic façade), La Colegiata, built on an Arab Mosque and Las Esclavas.
There is also a maritim avenue plethora of shops, a lot of restaurants and bars, tourist information, bicycles, boats, etc. can be rented.