Venamicasa offers the following services to lovers of Spain, Spanish language and Spanish culture: 
STUDY IN SPAIN
                         Spanish Language & Culture Course in Valencia (Jan-Dec).
Educational & Linguistic Tours, Cultural Programs, Educative Visits, Educational Routes, Workshops and enriching leisure activities in Spain for Schools and High-Schools.
A FULL IMMERSION IN THE CULTURE, LANGUAGE AND SPANISH CUSTOMS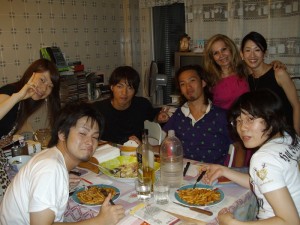 Venamicasa provides Spain Homestay with Spanish host family in Madrid, Barcelona,   Valencia, Alicante   and   Sevilla throughout the year.
The Venamicasa team works hard to ensure that our guests stay in safe homes and have peace of mind to enjoy their stay in Spain.
With Venamicasa, you have the opportunity to:
Spend little to discover Spain and Spanish culture.
Experience the real Spanish way of life living in Spain.
Participate in the Spanish customs, traditions and festivals.
Taste Spanish food and delights prepared by your host family.
Study at the prestigious Universidad Politecnica de Valencia.
Why choose Venamicasa? Venamicasa guarantees that you have:
Best value for money: You pay the cheapest rates for a very good Homestay service.
Really fun program: You enjoy living with our Spanish Host Families.
Memorable experiences: You discover places not in guidebooks.
Best Spanish host family homestays: You stay with good people, nice and safe neighborhoods, excellent houses.
Personalised service: You can reach us 24h a day.
100% satisfaction: You are sure you won't be disappointed.
Venamicasa works with the same Spanish Host Families since 2003, which represents a total guarantee. A high quality in our Homestay services: good houses and good gastronomy and our affordable prices lead us to occupy the top positions in major search engines network. Great 10 main reasons to choose us.
                               Venamicasa is a legally constituted Spanish company. 
Venamicasa works in very close partnership with the Universidad Politecnica de Valencia (UPV), ESIC Business and Marketing School in Madrid, Valencia and Sevilla, Momoyama Gakuin University in Osaka (Japan), and many other public and private Schools and Universities around the world interested in the Spanish Language, Spanish Culture, festivals, habits and traditions living with Spanish Families to offer you an enriching cultural experience in our beautiful Country.